Pitchoun Forest is about head and legs (and arms too)!
Nature theme : animals life in the forest
It is about both a course made of equilibrium exercises from tree to tree, just like a
treetop adventure course
, and a forest life education course in the trees. Here, we learn and have fun!
During their course, players will discover questions about nature, animals hidden in the trees.
At last, floor games related to the theme are at the children and parents disposal. . But above all, don't forget to listen to "Tattletale the Ladybird" as she has many things to ask you…
Safety on the children adventure course
The courses in the trees are totally secured by a « SAFEROLLER » automatic lifeline avoiding tedious karabiner handlings and allowing now adults to follow their children by doing the course if they want to.
The children's spirit (along with the parent's) is thus out of any safety minding.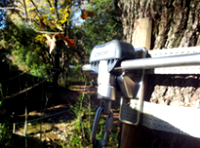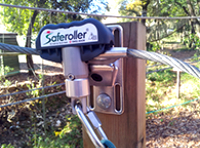 Your child and perhaps yourself, go and practice a semi-sporting activity: tree climbing. So make sure you dress accordingly.
Clothing of the adventurer:
– Sports pants or shorts
the shorts should not be too short because the equipment passes between the legs and this may cause friction on the skin.
– Sweatshirt or t-shirts depending on the season
do not put on clothes with cords that could get caught in the pulley
– closed sports shoes
and failing that, shoes that hold the ankle (prohibited in flip flops or croc-type mules)
– Long hair tied back
towards the back of the neck to allow the helmet to be worn
– Remove jewelry
(dangling earrings are prohibited)